News
Bible Hill Virtual Recreation Challenge
Details

Published: Friday, 14 August 2020
Bible Hill Virtual Recreation Challenge
Submit a photo of you and your family or friends enjoying the outdoors and being active in Bible Hill.
Send photos to This email address is being protected from spambots. You need JavaScript enabled to view it. with the names of everyone in the photo. Children will be entered in a draw to win a "Back to School" prize pack and adults will have a chance to win a recreational family pass to a local business.
Contest closes Wednesday, September 2nd at 4:30pm
Meadowland Trail Closure
Details

Published: Friday, 14 August 2020
Meadowland Trail will be closed for work starting August 19th.
Thank you for your patience.
Senior Fitness Classes
Details

Published: Tuesday, 11 August 2020
Senior Fitness Classes starting August 17th!
Monday: classes at 10:30 AM and 11:30 AM
Wednesday: classes at 10 AM and 11 AM
Friday classes at 11 AM
$2 per class.
Call 893-8083 or email This email address is being protected from spambots. You need JavaScript enabled to view it. to register.
Yoga With Celeste
Details

Published: Friday, 07 August 2020
Celeste is hosting a six week yoga session in Clover Drive Park.
Dates of sessions: Friday, August 07,14, 21 and September 04, 11, 18
$50/ 6 week session.
Call Celeste at 902-814-8000 to register,
Hall Available for Small Events
Details

Published: Thursday, 06 August 2020
Looking for a space to book your next meeting, class or celebration? Bible Hill Village Hall offers 2,080 sq ft of accessible floor space including a raised stage plus washrooms, lobby, audio-visual equipment and available bar operated by Bible Hill Fire Brigade.
The main area is approximately 40 ft by 52 ft and available for capacity up to 50 people with Covid-19 restrictions in place. Use of tables and chairs are included with rental.
The regular rental rate is $25 per hour (minimum 3), and many non-profit/community groups are eligible for a subsidized rate.
The Rental Agreement can be found here.
Call 893-8083 for more information.
We're hiring a Spare Crossing Guard!
Details

Published: Tuesday, 04 August 2020
We're hiring a Spare Crossing Guard!
Do you have some spare time ? Do you like to work with children while enjoying the fresh air and being physically active? You can do all those things while making a difference in your community!
Village of Bible Hill is seeking a reliable person to work as a Spare Crossing Guard . Our Guards play an important role in keeping children safe on their way to and from school. The ideal candidate is a responsible, safety-driven, community minded person who will maintain positive public relations for the Village in delivering the school crossing guard program.
The rate of pay is $13.07 per hour, plus 4% vacation. Spares are scheduled on an on call-basis, with hours of 7:45- 9: 00AM and 2:15- 3:30PM, Monday to Friday during the school year.
The selection process will include an interview and background inquiry with Child Abuse Registry, Criminal Record, and Vulnerable Sector Checks.
Interested persons may submit their resume in person at the Village Office or via email to This email address is being protected from spambots. You need JavaScript enabled to view it.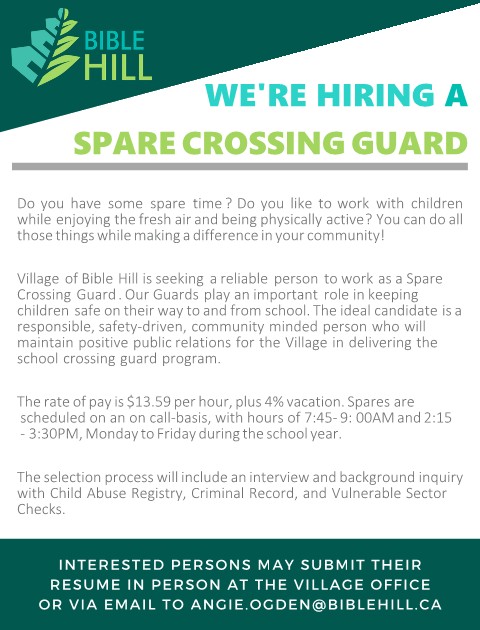 Subcategories