News
August 2022 Meeting Changes
Details

Published: Friday, 22 July 2022
The following regularly scheduled meetings of the Village Commission have been deferred:

Tuesday, August 9, 2022 (Commission in Committee)
Tuesday, August 16, 2022 (Commission Meeting)

Please also note that a Special Meeting of the Village Commission has been called for Tuesday, August 2, 2022 at 7 PM, where Commissioners will consider award of a new fire apparatus to Fort Garry Fire Trucks Ltd. As with any meeting, this special meeting is open to the public.
Members of the public are welcome to attend meetings of the Commission, which will resume in Septemeber, every second and third Tuesday at 7:00 PM in the Commission Chambers, at 67 Pictou Road.
Senior's Outdoor Afternoons
Details

Published: Thursday, 07 July 2022
Starting Thursday, July 21st, Village of Bible Hill will be hosting Senior's Outdoor Afternoons every second Thursday from 1:30 PM - 3:30 PM at the Bible Hill Recreation Park, located at 38 Guest Drive. We will gather on the grass beside the washroom building.
There will be lawn games such as washer toss, bocce ball, ladder toss, as well as a few other game options to keep everyone moving during the summer months. There will also be card tables to relax and enjoy the fresh air.
This series of events are free. Please call (902) 893-8083 to register.
Thursday, August 4th cancelled due to heat warning.
After School Program Leader Job Opportunity
Details

Published: Wednesday, 06 July 2022
Village of Bible Hill is recruiting two After School Program Leaders for the 2022-2023 school year. These positions will deliver fun, interactive programs in Bible Hill and Valley schools. We are looking for passionate, energetic, mature, and responsible leaders with an interest in developing leadership skills to lead our programs. The programs will be physical activity-focused, with elements of play, self-leadership, and teamwork. Most programs will be based on outdoor play, games, skill building, and nature awareness activities. The programs take place directly after school multiple days per week.
Please click here for more information.
Veteran Recognition Banner Program
Details

Published: Wednesday, 15 June 2022
The Village wishes to understand the level of interest among residents for implementation of a Veteran Recognition Banner Program in Bible Hill, beginning this year. If you/your family would be interested in sponsoring a banner (estimated cost for banner an installation between $100 to $200) with the name and photo of a friend or loved one you remember who served, please contact the Village Office to express your interest. The program will be planned to begin this year if sufficient interest is received.
If you are interested in sponsoring a banner, follow the link below.

https://forms.office.com/r/h9vvknDLVu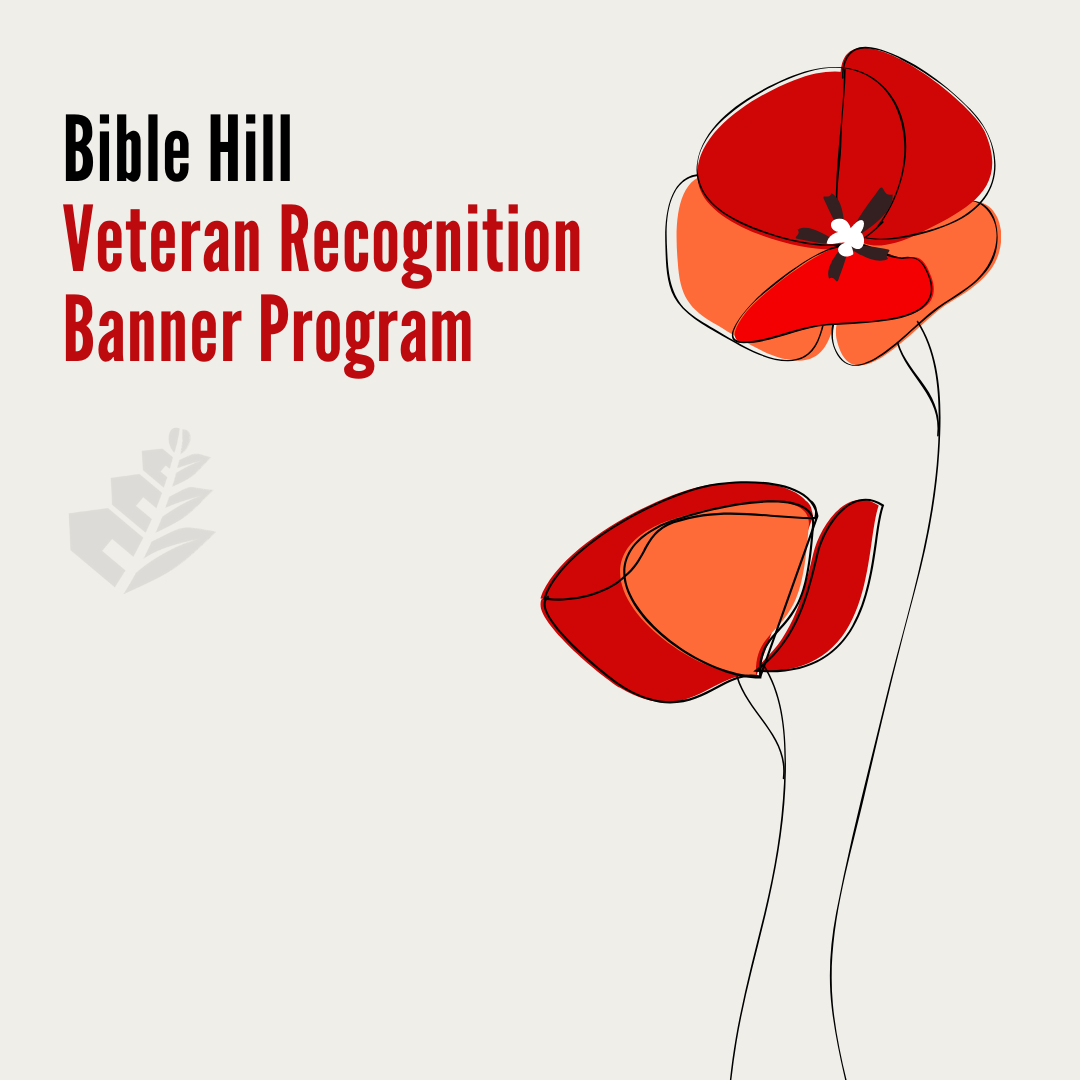 Parks and Recreation Advisory Committee Member Recruitment
Details

Published: Monday, 06 June 2022
Village of Bible Hill welcomes applications from Bible Hill residents to serve on its Parks and Recreation Advisory Committee in the following volunteer position:
(1) Youth Committee member for a one year term beginning September 1, 2022, ending August 31st, 2023.
The Committee meets the first Tuesday of each month at 6:00pm. The Parks and Recreation Advisory Committee Policy and nomination forms can be found on the Village website or by contacting the office.
Applications shall be in writing on the prescribed form, and may be mailed, emailed, or submitted in person to the Village office.
Canada Day 2022
Details

Published: Friday, 13 May 2022
The annual Canada Day street parade and celebrations in Bible Hill is back.
This year's parade will begin at 10:30 AM on Friday, July 1. See the poster for parade route information.
If your group is interested in participating in the parade fun, please fill out and send in a parade entry form. There are two ways to apply:
The party doesn't stop when the parade ends! After the parade, head to Bible Hill Recreation Park... starting at noon, there will be plenty of fun filled activities and entertainment to keep everyone busy! Fun for all at the park includes:
- local musical entertainment including our M.C., Gordon Tucker, Fiddles and Feet, and more (150 chairs available)
- Bouncy castles!
- Foam party!
- Pony rides!
- Face painting!
- Balloon twisting!
- Petting farm!
- Cotton candy!
- Cupcakes!
- the Splash-pad, playground, and more!
Check this page or our website at biblehill.ca for updates.
Subcategories