News
Scotia Pool Survey
Details

Published: Thursday, 22 October 2020
Glen W. Smith Community Pool Patron Survey
Scotia Pool Will reopen on Monday, November 2nd.

They had a "soft" reopening on October 13 for the Centurion Swim Club.

The Centurion Swim Club is renting the pool for 15 hours per week since the Wilson Aquatic Centre at the RECC is closed.

By opening the pool to the Centurions first, they have had the opportunity to test and perfect the procedures that will be applied to our facilities and patrons. It also provides the time required to train their lifeguards in proper Covid-19 protocols.

They have worked closely with Swim Nova Scotia, the Recreational Facilities Association of Nova Scotia, Craig Burgess (Manager of Recreation Services for the County of Colchester), Josh Kennedy (Parks and Recreation Director Village of Bible Hill), other pool facilities across Canada as well as various Departments and Branches of the Provincial Government including Public Health to ensure a safe and responsible re-opening.

To better understand what programs they should offer and the timing of those programs they are asking you to complete the following survey.

It will only take 3 to 5 minutes to complete.

They respect your privacy. All responses will be treated anonymously. Your replies will only be reported in aggregate totals.

If at any time you feel uncomfortable answering a question, please leave it blank. Should you decide not to complete the survey, they understand your decision.
https://www.surveymonkey.com/r/Scotia_Pool_Survey
Safe Halloween 2020
Details

Published: Tuesday, 20 October 2020
With the support of local businesses, Village of Bible Hill will be hosting our 27th annual Safe Halloween event. Bible Hill children (Grade 4 and under) and their families are invited to "Trick or Treat" at the H. Douglas Boyce Village Hall.
The Bible Hill Safe Halloween event will take place at H. Douglas Boyce Village Hall, 69 Pictou Road, on Saturday, October 31, from 6:00 pm to 7:00 pm, or until the treats are gone.
Safety precautions related to COVID-19 will be in place. Requirements for wearing masks in indoor public places need to be followed. Please wear a non-medical mask regardless of whether you wear a Halloween costume mask.
Let's have a Skele-ton of Fun! 🎃
Bicycling Laws in NS
Details

Published: Thursday, 15 October 2020
Bicycling laws in NS:
Sidewalks: Cyclists must follow the same law as motor vehicles and use the right-hand side of the road, not the sidewalk, except for children under 16.
Crosswalk dismount: Even children need to dismount and become a pedestrian when crossing a crosswalk.
Safety gear: All riders must wear a helmet and have a bell or a horn installed.
Lighting: 30 minutes before sunset to 30 minutes after sunrise, you need a white light installed on the front of your bike and a red reflector on the rear.
Signal: You're required to use hand signals, otherwise you may be liable for any collisions.
You're driving a vehicle: Unless otherwise stated by law, you have to follow every rule that applies to any other vehicle.
Elections 2020
Details

Published: Tuesday, 13 October 2020
Candidate contact information:
| | | |
| --- | --- | --- |
| Name of Candidate | Phone number | Email address |
| Burke, Thomas R. | 902-899-5499 | This email address is being protected from spambots. You need JavaScript enabled to view it. |
| Clark, Justin Arnold | 902-694-7414 | This email address is being protected from spambots. You need JavaScript enabled to view it. |
| Lowe, Bradley | 902-957-3353 | This email address is being protected from spambots. You need JavaScript enabled to view it. |
| McNutt, Carvell Scott | 902-895-0567 | This email address is being protected from spambots. You need JavaScript enabled to view it. |
| Shea, Tim | 902-719-3851 | This email address is being protected from spambots. You need JavaScript enabled to view it. |
Election of Village Commissioners - November 2020
Two (2) seats with three-year terms to June 2023
Nominated candidates:
Burke, Thomas R.
Clark, Justin Arnold
Lowe, Bradley
McNutt, Carvell Scott
Shea, Tim
Election dates for voting at H. Douglas Boyce Village Hall, 69 Pictou Road:
Advance Poll - Tuesday, November 10, 2020, 11:00 AM - 7:00 PM
Election Day - Saturday, November 14, 2020, 9:00 AM - 7:00 PM
To vote, a person must, as of advance polling day:
be a Canadian citizen;
be at least 18 years old;
have been ordinarily resident in Bible Hill, NS for six months; and
be entitled to be registered on the list of electors to vote.
General information:
Village elections are held annually. Elected representatives (called a Commissioner) serve staggered, three year terms. In Bible Hill; Election Day is the first Saturday after the annual meeting of each year; and there is an a Advance Polling Day the Tuesday immediately preceding Election Day. Electors wishing to run for office must complete a nomination form and submit it to the Returning Officer during the Nomination Period. Nomination Period means the period from and including the fifth Thursday proceeding Election Day to and including the fourth Thursday preceding election day.
Qualifications of a Village Commissioner are as follows:
No person is qualified to serve as a Village Commissioner unless the person is an elector.
An elector who is a council member is not qualified to serve as a Village Commissioner.
Every Village Commissioner shall take and subscribe the oath of office prescribed by the Municipal Elections Act in the manner prescribed by that Act before entering upon the duties of Village Commissioner.
A Village Commissioner whose term of office has expired is eligible for re-election.

An "elector" means a person resident within the Village entitled to vote at a municipal election, who will have resided in the Village for at least six months immediately prior to the Village election and;
is of the full age of eighteen years on the first advance polling day;
is a Canadian citizen on the first advance polling day;
has been ordinarily resident in the Province for a period of six months immediately preceding the first advance polling day; and
is ordinarily resident in the municipality or in an area annexed to the municipality and has been so since immediately before the first advance polling day, is entitled to be registered on the list of electors and to vote.
Public Notice: Dedication of H. Douglas Boyce Village Hall
Details

Published: Friday, 18 September 2020
Public notice is hereby given that the Village Commission has designated Village of Bible Hill's community hall and fire station building, located at 69 Pictou Road, to be known as 'H. Douglas Boyce Village Hall'.
The naming dedication takes immediate effect, as of the resolution date, September 15, 2020.
In making the decision to dedicate the name of the community building, the Village Commission reflected on the late Mr. Boyce's many significant contributions to the establishment and operation of local government, the fire brigade, and other community organizations, and the impacts of those efforts on building a strong and vibrant community as a whole, both during his working career and long after. The Village Commission is proud to adopt this fitting recognition in honour of an exceptionally dedicated and impactful resident.
We're hiring a Spare Crossing Guard!
Details

Published: Monday, 14 September 2020
We're hiring a Spare Crossing Guard!
Do you have some spare time ? Do you like to work with children while enjoying the fresh air and being physically active? You can do all those things while making a difference in your community!
Village of Bible Hill is seeking a reliable person to work as a Spare Crossing Guard . Our Guards play an important role in keeping children safe on their way to and from school. The ideal candidate is a responsible, safety-driven, community minded person who will maintain positive public relations for the Village in delivering the school crossing guard program.
The rate of pay is $13.07 per hour, plus 4% vacation. Spares are scheduled on an on call-basis, with hours of 7:45 - 9:00AM and 2:15 - 3:30PM, Monday to Friday during the school year.
The selection process will include an interview and background inquiry with Child Abuse Registry, Criminal Record, and Vulnerable Sector Checks.
Interested persons may submit their resume in person at the Village Office or via email to This email address is being protected from spambots. You need JavaScript enabled to view it.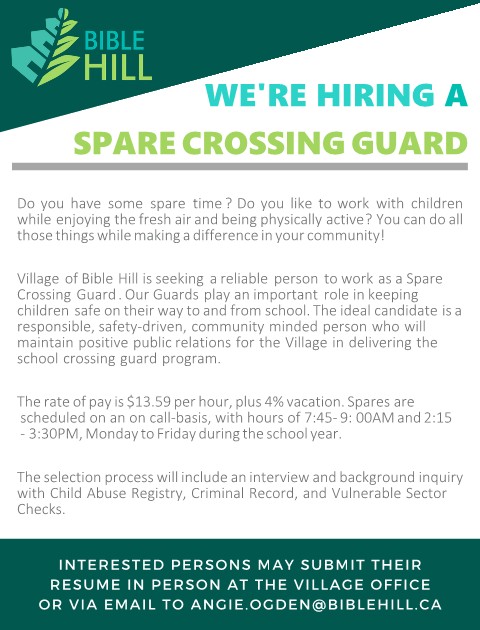 Subcategories